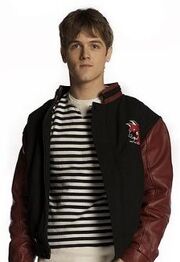 Luke Baker was a senior (Grade 12) at Degrassi. He is a Florida native whose whole family moved when he made the Toronto Ice Hounds team. Luke is athletic, handsome, and above all, a devout Christian. But Luke's teenage urges often get the better of him, despite his attempts to remain dedicated to his Christian faith.
Being a hockey player, Luke enjoys a constant abundance of female adoration, which usually makes him the guy who'll kiss first and pray for forgiveness later. He is friends with Neil Martin. He is protective of his sister Becky Baker, and wants to make sure she's as happy at Degrassi as he is. He used to be enemies with Clare Edwards, Dave Turner, Jake Martin, Katie Matlin, and Eli Goldsworthy but they have ended their fueds. He had a dislike towards Adam Torres, especially towards his relationship with his sister, before his death. Luke and Neil later on sexually assault Zoë Rivas when taking advantage of her at a party when she was drunk, resulting in their arrest in front of the entire school, he has been sentenced to prison for two years along with Neil. Both he and Neil are later taken to trial where they are found guilty of distributing child pornography and sexual assault. He was also expelled from Degrassi. He is portrayed by Craig Arnold.
Ad blocker interference detected!
Wikia is a free-to-use site that makes money from advertising. We have a modified experience for viewers using ad blockers

Wikia is not accessible if you've made further modifications. Remove the custom ad blocker rule(s) and the page will load as expected.